BBA Math News & Announcements
Check out BBA's newest publication!
We are proud to announce the launch of our newest publication, The Lighthouse Almanac.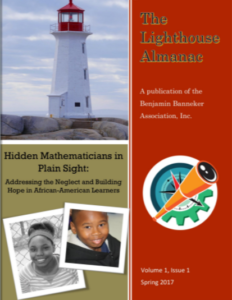 This publication is a resource in which PK-16 educators (inclusive of school administrators and college/university faculty), parents, and other stakeholders can find encouragement and solutions to current and pressing concerns connected to the mathematics education of African-American students. BBA will continue our work as advocates for students through The Lighthouse by highlighting both the collective actions and experience of our members as well as other individuals committed to this work.

The Lighthouse Almanac is free for members of the Benjamin Banneker Association.
To access the inaugural edition, visit the BBA Members Only page.